I have been inspired yet again by an Anthropologie top. This time it is the Leaf Filigree Top. I was intrigued by the lace with embroidery overlay and decided to use it as a jumping off point for my next creation.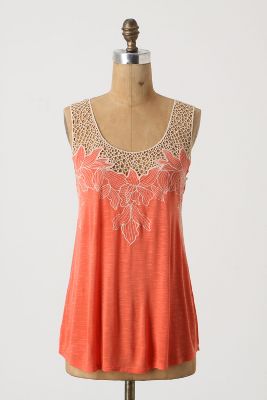 Anthropologie Leaf Filigree Tank
I struggled with the lace option. Should I cut out the background fabric leaving it sheer or keep the fabric. As you can see I choose to leave the background fabric. I decided that it would be to much trouble to cover up the ole bra straps.
The base fabric is a rayon knit and the flowers are a fine cotton print.
I have had the rayon knit forever and loved it so much that I was afraid to cut into it! After all I only had 5 yards of it and what if I made a mistake? I know you understand how I felt.
The cotton floral print is rather new. The problem was that it did not completely match the knit. What to do? Then I remembered that I had won these Pentel Arts fabric markers at an ASG event.
I

This is a flower from the cotton print - you can see that it does not not have the purple and gold color of the knit so I used the crayons to fill in some of the white space of the print - now it coordinates with the knit.
Next issue, how to overlay and apply the lace? I decided to use a piece of heavy silk organza under the lace and then overlay it on the knit. This technique worked great - giving the lace the body it needed to support the applique.
Close up of the flower applique

Although it is difficult to see, I used two white threads in the needle when I appliqued the flowers on the bodice.
I plan to make a little shrug of the knit to cover up my granny bat wing arms. I really don't like to expose the public to those things unless really provoked!
Please leave a comment or click a box to let me know you were here.