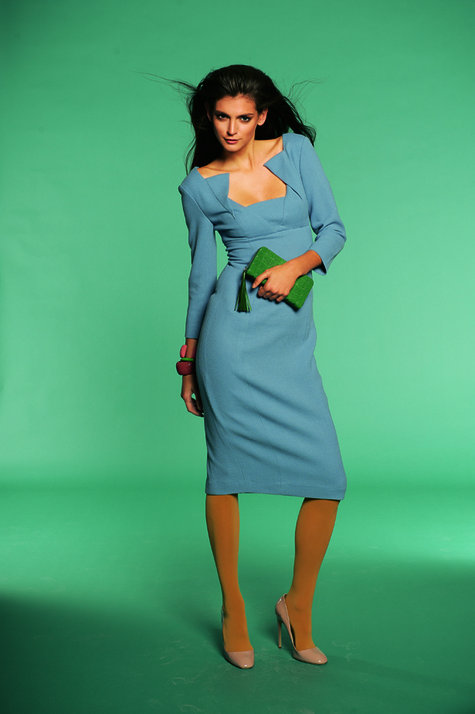 BWOF Dress 131

I have been so disappointed in my BWOF magazines lately. I don't know what they were thinking when they choose the patterns for each issue. Previously I would find 8 or 9 designs I wanted to make - not that I ever made them - but I could have! Now I am LUCKY if I find 1 in each issue. This issue was a particular disappointment. Who in the USA is going to wear what they are calling the Alpine Folklore pgs 16 -29 or , even better, Plus update folk styles on pages 32 - 36 and 44 - 52 and yes even the children's designs 18 - 29. So by my count that is 26 pages of this issue dedicated to Folkware? WHY?
Anyhoo - I did find this one dress #131. I am attending a conference with Dr. P next week and need a dress for the somewhat formal dinner. I say somewhat formal as the first year I attended, I asked (by mistake - never ask your husband what to wear) Dr P what the attire was for the dinner and he said business. I wore a slightly dressy suit and surprise, surprise, the gals had on BALL GOWNS! Yikes!!!
Next year I wore a tea length dress and just right. Next year - for what ever reason - I must have missed the memo - hey all have on pants!
So, this year, I decided to make a little black dress. I needed an updated LBD so I chose this one. I am making it in 4 ply black silk that has been in my stash for quite a while -more than 2 years - so as you know it is considered free fabric. I am adding lace to the bodice and will probably make the sleeves in lace.
Here is my first pass at the bodice:
Lace over three of the bodice front pieces
Trying to decide if I want to add this zipper
That is where I am today -now off to the machine to finish.